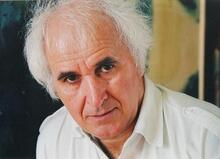 Velibekov

  The nature of Gusar city is shown in the Darwin Velibekov's pictures best of all. These flower meadows, snowy mountains and wild waterfalls are described with such love in his works that many people believe the author was originally from Gusar. But in fact, it is not like this.
  Darwin Gadzhibekovich Velibekov was born in the village Cheper, Ahty district of Russia and is the author of works that adorn private collections and collections of state museums in countries such as Azerbaijan, Russia, Ukraine, United States, Turkey, Germany, France, Austria, Israel, Norway, Japan, Italy, England, Poland and Yugoslavia. He spent 10 years of his life here, 3 years in Novocherkassk, 10 years old in Grozny, 10 years in Leningrad and 4 years in Makhachkala. He graduated from the High School of Industrial Art (present-day Academy) named after V. Mukhina. He was elected in 1976 as a member of the Artists' Union of Dagestan and the Soviet Union he moved to Baku the same year, and in 1980 he was admitted to membership of the Union of Artists of Azerbaijan.
  Darwin Velibekov's works have a depth of feeling, the freedom of thought, philosophical content, and the call for an understanding of the world. He is one of the greatest artists in the field of applied and monument painting. Velibekov is the author of more than 1,000 works. His monument "White Cranes" won first place in a 1984 competition organized by the government of Dagestan. In "The Red Book of Azerbaijan", which won the first place at the World Exhibition of books in 1989, there are 150 works of D. Velibekov. For 30 years, he was often visiting Gusar. Being fond of the nature of this area the artist has devoted more than 50 of his works to Gusar.

Shahlar Alirzaev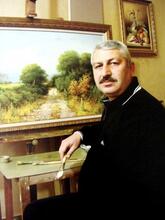 Shahlar Alirza ogly (son of) Alirzaev's work familiarizes us with the nature of our native place.  He helps us observe more closely the life, customs and traditions of the Lezghin people – one of the ancient people living in our republic.
    The first exhibition of Shahlar Alirzayev's works was in 2002 at the Center of Miniatures located in Icheri Sheher in Baku. The people who have visited this exhibition say often that are still moved by this young artist's works. His works such as «Khran Fu» (Bread), "Shah dag", «Bulaxdal» (At a spring), and «Bekaryar» (Jugs) were created with love for the country, and are highly appreciated from judges of art.
    Shahlar was born in the Avadzhuh village of Gusar district, graduated from secondary school № 145 in Baku, and studied in A. Azimzade Art School. Later he studied at the Azerbaijan University of Arts.
    His work had popularity out of the country also, as the ethnographic theme takes an important place in his activity. Shahlar Alirzaev, who has devoted all his life to difficult business, is always preparing for the next exhibition.

Mahmud Chelebov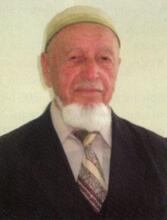 Mahmud Chelebov is the author of fine products about history, culture, heroes and the native nature of the Lezghin people.
Chelebov Mahmud Dzhami ogly (son of) was born in 1935 in the Gunduzkala village of Gusar district. He graduated from the village school, then graduated from professional school #3 in Baku and started to work on oil rigs. After graduation from the A. Azimzadeh Art School in 1956 Mahmud Chelebov began teaching high school in the Rasulzadeh settlement of Baku. He has been a famous artist since 1959.
    In 1980 the carpet "Sport" drawn by him was given an award at "Olimpiada-80" exhibition held in Moscow. He was chosen as a member of the Artists Union of USSR and has taken part in tens of exhibitions in the former USSR and abroad.
    Among Mahmud Chelebov's works are the portrait of famous Lezghin poet Suleyman Stalsky, Lezghin commander Gadzhi Davud, and 121 year-old carpet weaver Zibeyda Sheydayeva. Mahmud Chelebov is an expert on Lezghin carpet style and sumag carpets. The patterns of carpets and sumags, created by him, such as "Dzhami Nur", "Indzhi", "Spring", "World", and "Lezginka" are considered as valuable exhibits in Azerbaijani museums. He was the first to make classical Lezgi portraits and published "The Calendar of Lezghi People." Mahmud Chelebov made art drawings for ten books published in Azerbaijan.

Aliyar Alimirzoyev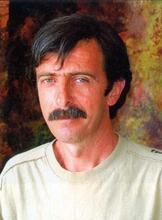 The Baku artist Aliyar Alimirzoyev's picture "Phoenixes" was awarded Grand Prix in 2003 at the International exhibition in Paris, where artists from 200 countries participated. Works of Aliyar Alimirzoev are exibited in the Tretyakov gallery in Russia, museum "Albertino" in Vienna, and the city museum of Adens in Denmark. His pictorial works rank high in collections of businessmen from Russia, USA, China, Turkey, Serbia, Poland, Austria, Korea, Indonesia, and other countries. Aliyar is one of those artists of our republic, whose works are sold most frequently.  He has sold about 1000 works to date.
    One of prominent representatives of the modern school of school of Azerbaijan, Aliyar Alimirza ogly (son of) Alimirzoyev was born in the Kilah village of Gusar district. He graduated from Baku school № 229 and was educated at the A. Azimzadeh. College of Art.  Aliyar, with his brilliant talent, became a member of Artists Union at age 27. After an exhibition carried out in the youth and sports center in Moscow, the union of artists of the USSR gave this young talented man a three-year grant.
Participating in a private exhibition in 1996, the famous artist Rasim Babayev said, «Aliyar has done the utmost in art. There is nothing else to do more than he has done.» In 2006 under the decree of the President of Azerbaijan, Aliyar Alimirzoev was given the name «Honored Artist of Azerbaijan Republic». This is his website http://eliyar.net


These biographies are from Sedaqet Kerimova's "Qusar" book